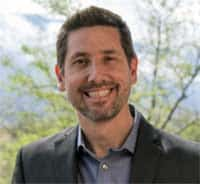 Sierra Tucson Welcomes New Executive Director
Tucson, AZ: In celebrating over 20 years of industry experience, Bill Anderson's long-standing career in behavioral health began while he was simultaneously employed at an emergency shelter for teenagers and an acute day treatment program for mental health. Upon achieving his licensure as an LMSW, Bill focused his specialty in the addictions field working for MARR, Inc., a 90-day, long-term residential addiction treatment program in Atlanta, GA. Initially, he held a position as Case Manager, and soon advanced to become a Primary Therapist.
During his tenure at MARR, Inc., Bill also obtained his licensure as an LCSW and was respectfully promoted to Director of Admissions. After developing a strong foundation for the admissions department, Bill advanced into leadership as Business Development Director and structured a team to build strong referral relations. Bill's tenure with MARR, Inc. lasted 15 years prior to accepting a new role with Acadia Healthcare as CEO of Blue Ridge Mountain Treatment Center in Atlanta.
In recently welcoming Sierra Tucson to the Acadia Healthcare family, Bill is very pleased and honored to take on his new role as Executive Director to lead Sierra Tucson to greater heights of compassionate care and clinical excellence.
"I have over 20 years of experience in the mental health field," said Bill. "My experience includes building a strong team, and I consistently move toward improving patient and client care with an emphasis on professional and clinical team collaboration. It's my passion to serve the people we help, and I surround myself with individuals who have the same passion."
Bill believes in integrating the devotion of his work and personal life. He has a deep appreciation for his wife of 19 years and two teenage children. Bill's additional interests include professional football, golf, tennis, and watching movies.