Patients completing Mood Program report greater hope, improved self-esteem, & less despair.
BECKs™ Pilot Outcomes Project (B-POP)
Preliminary psychological data* were collected from 281 Mood patients upon Admission & Discharge during 2011 & 2012. The patients in this sample completed a series of BECKs scales for Depression (BDI®-II), Anxiety (BAI®), and Hopelessness (BHS®). These scales are standardized and valid assessments of psychological mood and well-being. The line graph below shows the extent to which patients improved after completing Sierra Tucson's 30-day Mood program. The degree of improvement in all areas was statistically and clinically significant.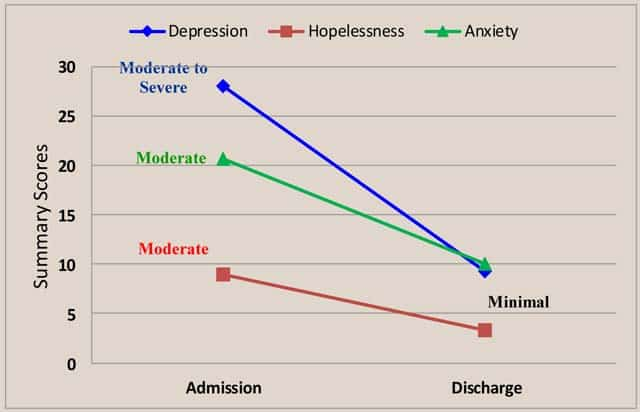 *All data presented in this report are preliminary. Further cross-check analyses are in progress, & once finalized will be published accordingly.
Patients report significant improvement in mood and attitude: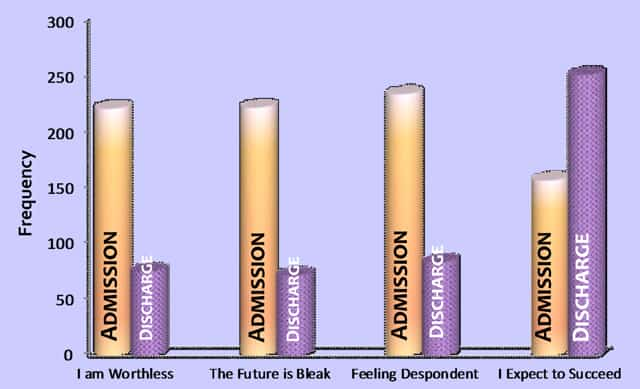 Worthlessness & Poor Self- Esteem reduced by 72%
Hopelessness reduced by 87%
Feelings of Despondency reduced by 74%
Future Expectations improved by 80%
Mood Program Patient Characteristics
Data from B-POP comprised basic demographic information and the BECKs scales which are customarily collected on all patients who admit to & discharge from Sierra Tucson. Data from 281 patients were gathered and analyzed, comprising 62% of the total 454 patients completing the Mood program for that same time period.
The patients comprising this pilot outcomes had a relatively equal distribution of women (57%) and men (43%), The distribution of age of patients who participated in the Mood program typically clustered into three groups, as indicated below.
Patient Demographics

Where will our Outcomes Research go from here?
Sierra Tucson is committed to providing the best possible care to our patients' recovery. Thus, we have established an Outcomes Research Program aimed to assess patient progress, not just at discharge, but over the course of their recovery in the long-term. Our commitment to our patients goes above and beyond the time they are in treatment at our facility. The second important reason why we have established an Outcomes Research Program is to rely upon patient-reported progress to consistently enhance the efficacy of our programs so that we remain evidenced-based and cutting-edge in our approaches to healing and recovery.
Mood data will be updated periodically; please visit our website for these updates!