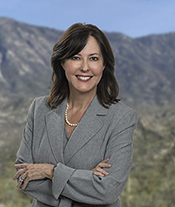 TUCSON, Ariz. (Sept. 11, 2019) – Acadia Healthcare, operating a network of 595 behavioral healthcare facilities around the world, has promoted Sierra Tucson Chief Executive Officer Jaime Vinck, MC, LPC, NCC to lead as the CEO of its newly-formed Sierra Tucson Group comprised of Sierra Tucson (Tucson, Ariz.), Sunrise Ranch (Riverside, Calif.,) and Sierra by the Sea (Newport Beach, Calif.) Sierra Tucson's Chief Operations Officer Valerie Kading, DNP, MBA, MSN, PMHNP-BC has also been appointed as CEO of Sierra by the Sea and Sunrise Ranch.
Successfully operating Acadia Healthcare's flagship behavioral health facility, CEO Vinck has served in executive leadership positions at Sierra Tucson since 2014 including chief operations officer and chief clinical officer, where she has established groundbreaking outcomes and recovery programs that have earned top recognition within and outside the industry. She recently oversaw a major campus extension of Copper Sky, a 30,000-square-foot therapeutic environment that offers both inpatient and outpatient customized care. An industry advocate, Vinck speaks worldwide on industry topics and has repeatedly been named one of the top leaders in Arizona for both healthcare and behavioral health and sits on the Board of Directors of the National Association of Addiction Treatment Providers (NAATP.) Recent accomplishments include speaking at the House of Commons in London and being named 2019 Most Influential Women in Arizona Business by AZ Big Media.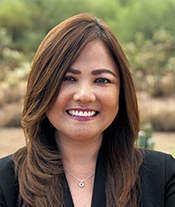 Dr. Valerie Kading has served as chief medical operations officer and interim chief medical officer, prior to becoming COO at Sierra Tucson. Most recently, Dr. Kading led the implementation of electronic health records facility-wide resulting in significantly improved patient care and efficiency. She also led the strategic initiative of certifying Sierra Tucson as one of the first behavioral health facilities to offer Zulresso™, recently approved groundbreaking IV antidepressant for postpartum women. Dr. Kading's expertise has included the effects of adverse childhood experiences on substance use, mood disorders and suicide, perinatal mood disorders, and unique treatment needs of licensed professionals. She was recently awarded the 2019 State Award for Excellence from the American Association of Nurse Practitioners, largely in part for founding the Southern Arizona Advanced Practice Nurse – Nurse Practitioner Society.
Jaime Vinck and Dr. Valerie Kading are incredible leaders in the behavioral health industry and we are honored to have them leading the Sierra Tucson Group.
About The Sierra Tucson Group
The Sierra Tucson Group is currently comprised of Sierra Tucson (Tucson, Ariz.), Sunrise Ranch (Riverside, Calif.,) and Sierra by the Sea (Newport Beach, Calif.) Internationally renowned for its innovative approach and legacy of clinical care for behavioral and mental health treatment, Sierra Tucson combines integrated care with evidence-based practices to provide a full range of leading treatment methods.