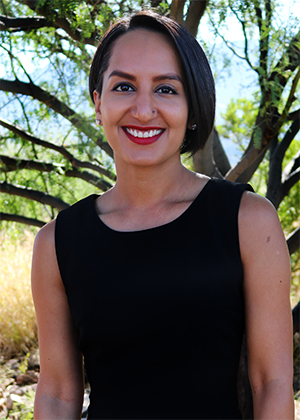 Jasleen Chhatwal, MD
Director of Mood Program
Jasleen Chhatwal, MD, joined the medical staff at Sierra Tucson as Medical Director of the Mood Disorders Program in September 2018. Dr. Chhatwal comes to Sierra Tucson by way of the University of Arizona Department of Psychiatry where she continues to serve as an Assistant Professor. Her extensive experience in treating complex mood disorders in a multi-disciplinary setting and training in integrative medicine makes her a great fit for leading the mood recovery program. She believes each individual has a unique, authentic story, and is grateful to all those who have trusted her with their stories.
Dr. Chhatwal completed her residency training in psychiatry at the University of Arizona College of Medicine – Tucson, also serving as Chief Resident. Here she trained in psychodynamics, cognitive behavior therapy, psychopharmacology, neuromodulation, and various other emerging modalities. She further completed fellowship training in Integrative Medicine from the renowned Arizona Center for Integrative Medicine.
Post residency, Dr. Chhatwal stayed on at her alma mater working in a combined community and academic setting. Here she provided inpatient and outpatient services, while also serving as associate and then interim medical director of inpatient psychiatry services at Banner University Medical Center – South Campus.
Dr. Chhatwal has been active in medical student & resident physician education, aiming to enhance understanding of psychiatric disorders for varied medical personnel. She is also active in the mental health community, advocating for her patients', colleagues, and profession through the Arizona Psychiatric Society. This year, she serves the society in the role of Vice-President and was recently awarded the presidential award for leadership. She concurrently is also serving as the Early Career Psychiatrist representative for western US and Canada (Area7) to the American Psychiatric Association Assembly.
Echoing naturalistic healing disciplines, Dr. Chhatwal believes that the human body has the inherent capacity to heal itself when provided with a nurturing environment for the mind, body, and spirit. In her practice, in collaboration with colleagues from various disciplines, she aims to recreate that nurturing environment so residents can start their journey towards a healthier, more wholesome life.
Dr. Chhatwal's treatment philosophy includes intervening early, providing holistic, culturally competent, gender-affirming and evidence-based care. She envisions the mood recovery program as a place where intensive biological and psychological therapies help restore the vital essence of each person's unique and authentic story.