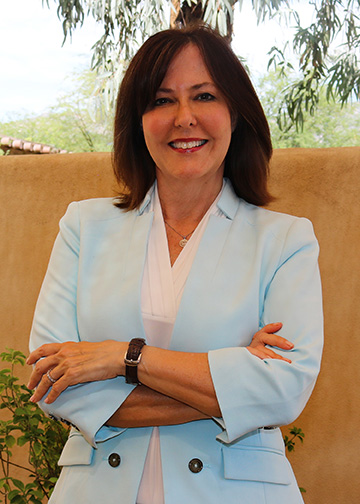 Jaime W. Vinck, MC, LPC, NCC, CEIP
Chief Executive Officer
As only the second woman in Sierra Tucson's 34-year history to hold the facility's top leadership position, Jaime Vinck, MC, LPC, NCC, CEIP, was recently named chief executive officer. Previously, as chief operations officer and chief clinical officer, she led strategic initiatives to improve clinical quality and advance Sierra Tucson's specialized treatment services. As a result, Sierra Tucson gained national recognition, with the 2016 Organizational Achievement Award, the highest award bestowed by NADAAC, the Association for Addiction Professionals.
Prior to Sierra Tucson, Jaime's work focused on helping thousands of families break the grip of addiction in their lives both in private practice, where Jaime was an independently licensed clinician and nationally certified counselor, and at Journey Healing Centers, where she held various positions including dual residential therapist, family education therapist, outpatient services director, and corporate clinical director. During her tenure, she was recognized with the Journey Healing Centers' "Power of One" Award for outstanding contribution. Prior to entering the behavioral health field, Jaime had a successful career in Human Resource Management with Chrysler Corporation in Detroit, MI, and Omnipoint Communications (T-Mobile) in Cedar Knolls, NJ.
Jaime is also the founder of Hoofprints to Healing™, an equine psychotherapy program targeted at addressing the emotions underlying addiction. Her passion for horses and their role in behavioral health solutions has been instrumental in expanding Sierra Tucson's equine-assisted therapy program, which is part of the facility's integrative therapies used to treat depression, addiction, trauma, complex pain, and co-occurring disorders.
Jaime has long been a mentor to women in leadership positions both internally at Sierra Tucson and within the industry. An industry advocate, she speaks nationally on such trending topics as Compassion Fatigue and Provider Resilience, The Mature Adult Treatment Experience, and The Importance of Collaboration When Treating Co-occurring Disorders.
Jaime is often sought out for her expertise and is frequently quoted in local, national, and industry publications. When she was recently featured on Mental Health Radio, KGUN 9, her segment on functioning alcoholics became the most downloaded show in the station's history. In addition, she has written articles for GRAND Magazine on holiday stress as it relates to behavioral health, and has been a contributor to articles on both LIVESTRONG.com and SheKnows.com.
Jaime holds a bachelor's degree in employee relations from Michigan State University; a master's degree in professional counseling from Ottawa University; and is currently enrolled in the Doctor of Behavioral Health Program at Arizona State University.