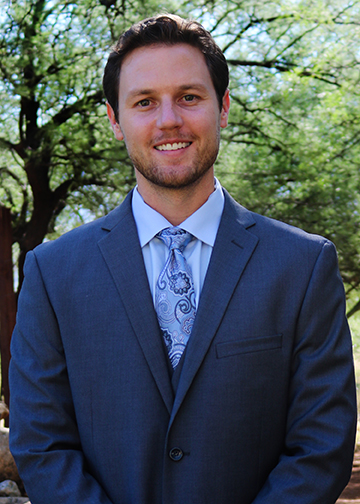 Brandon Yates, MD
Attending Psychiatrist (Mood Program)
Brandon L. Yates received his medical degree from the University of Arizona College of Medicine. There, he developed a deep interest in the intersection between the neuromuscular system, nutrition, medication, the brain, memory, and human perception of speech and emotion.
In Medical School he received a scholarship to visit a world-renowned psychiatric treatment center and deepen his knowledge of severe mood disorders, anxiety disorders, and addictions. He also served as the President of the Medical Ethics Society, and received a leadership award for excellence for his contributions spanning two years.
Dr. Yates went on to complete his Psychiatric Residency training at Banner-University Medical Center in Tucson, Arizona where he was recognized on the Dean's List for Excellence in Medical Student Education, an award voted upon by medical students who had worked directly with Dr. Yates throughout the year. The following year, Dr. Yates conducted a medical study investigating alternative models of health care delivery for individuals with severe mental illnesses in Tucson, Arizona. The study later received second place at the hospital's annual research symposium. In addition to these activities and recognitions, Dr. Yates served for two years as the Southern Arizona Resident-Fellow Representative to the Arizona Psychiatric Society where he was selected by his residency directors to receive the annual Resident Recognition Award for consistent demonstration of core professional values including compassion for patients and colleagues, clinical excellence, leadership within the field of Psychiatry, service to the community, and advocacy on behalf of patients and the profession of psychiatry, itself.
Dr. Yates received specialized training during his residency in emergency psychiatry, consult-liaison psychiatry, geriatric psychiatry, psychopharmacology, outpatient psychiatry, and several key areas of psychotherapy, including: psychodynamic psychotherapy, time limited dynamic psychotherapy, emotion focused therapy, cognitive behavioral therapy, supportive therapy, and dialectical behavioral therapy.
Dr. Yates maintains active memberships in the Arizona Psychiatric Society, the American Psychiatric Association, and the Southwest Psychoanalytic Society. He combines his biological and medical backgrounds with the in-depth psychotherapeutic, pharmaceutical, and diagnostic experience he gained during his psychiatric residency. He infuses his daily practice of psychiatry with perspectives gleaned from intensive studies in psychoanalytic and psychodynamic psychotherapies, family systems, developmental psychology, attachment theory, object relations, existential psychotherapy, and the neurobiology of trauma. Dr. Yates also enjoys supplementing these perspectives with methods of mind-body integration, ecological awareness, meditation, and mindfulness.
Each visit with Dr. Yates revolves solely around his patient. His approach to clinical care is non-rushed, individualized, open-minded, interested, gentle, sincere, reflective, non-judgmental, warm, and humorous.
Regarding current trends in the field of Psychiatry, Dr. Yates believes medications can be used as highly effective tools for self-empowerment. However, he also believes that when overused, or misused, medications can create additional and more complex difficulties in life, treatment, and recovery. He feels that it is important to refrain from using medications to patch over, mask, or avoid deeper emotional or relational issues which may benefit from simple and direct exploration in psychotherapy, with or without medications.
Themes that often arise in working with Dr. Yates include the building of self-confidence through living with awareness and sincerity, the mending of trust in oneself and in others, sustaining the courage to look within despite fear and discomfort, and supporting the natural healing capacities that are present within each individual.
In his free time, Dr. Yates enjoys reading, writing, listening to music, nature walks, gardening, hiking, traveling, sunsets, drinking tea, sampling new cuisines, and spending time with friends and family.