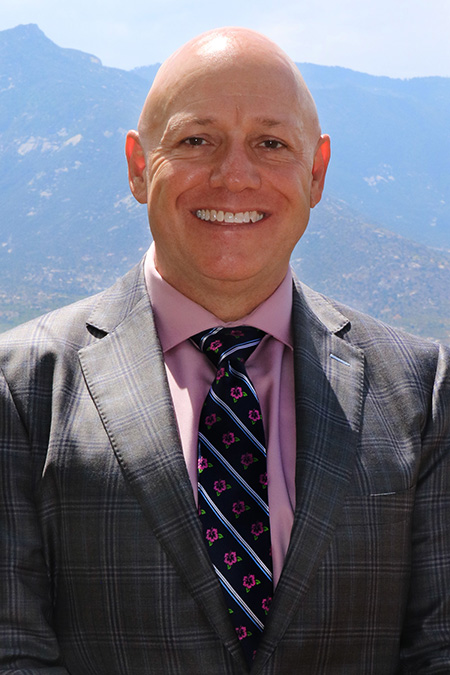 Donnie Sansom, DO
Associate Medical Director, Director of Addictions
Donald Sansom, DO received his Bachelor of Science from Northern Arizona University in 1987, and his Doctor of Osteopathy degree from A.T. Still University (Kirksville Campus) in 1991. He completed an internship in internal medicine at the Jewish Hospital of Cincinnati and, subsequently, completed his residency in anesthesiology at the University of Cincinnati in 1995, spending his last year serving as elected Chief Resident. From 1995 through 2012, he practiced in a diverse and robust private practice setting with an emphasis in obstetrical and pediatric anesthesia at Tucson Medical Center. In addition to his busy clinical practice, Dr. Sansom served in a variety of administrative and clinical leadership positions at Tucson Medical Center, including serving as Anesthesia Department Chairman, and as a member of the medical executive committee. During that time, he volunteered for five years co-leading medical mission trips to Honduras to serve the medically indigent.
Upon retiring from anesthesia in 2012, Dr. Sansom became the medical director in a corrections facility and launched what would become the next chapter in his career as he began working with individuals with various forms of substance abuse and co-morbidities. In 2015, Dr. Sansom left the medical director position to pursue an opportunity to start a drug and alcohol treatment center in both a clinical and administrative role, further cementing his commitment to treating patients with addiction.
Dr. Sansom has a passion for working with individuals with all forms of substance use disorder and shepherding them along a path of lifelong sobriety and health. To that end, he is firmly committed to Sierra Tucson's holistic multidisciplinary approach. He has interests in neuroscience as it relates to addiction, mindfulness, neuroplasticity, and spirituality. Dr. Sansom is intrigued by how science and spirituality intersect in medicine and in people's lives and strongly believes in educating patients about addiction as a disease and about recovery. He continues to be  a prominent speaker for Sierra Tucson on topics including addiction and recovery, and has been quoted and published in numerous articles as an expert in the field of addiction medicine.
Dr. Sansom is a Diplomate of the American Board of Preventative Medicine-Addiction Medicine, is a Diplomate of the American Board of Anesthesiology, is a Fellow of the of the American Society of Addiction Medicine (FASAM), is a member of the American Osteopathic Academy of Addiction Medicine (AOAAM), and he holds certificates in AOAAM Essentials of Addiction Medicine and the Advanced Addiction Medicine Courses.