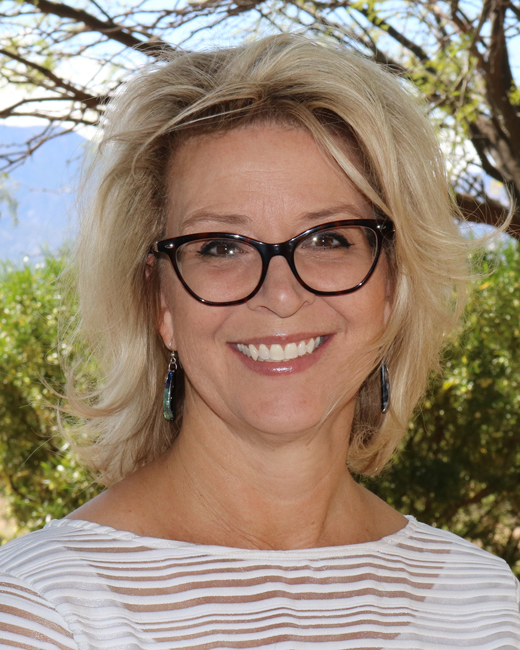 Antoinette Giedzinska, PhD
Director of Applied Neuroscience & Outcomes
Antoinette Giedzinska, PhD, also known as Dr. Antoinette, received her Doctor of Philosophy in Clinical Psychology from the University of Southern California, where her training emphasized behavioral medicine, clinical research, and neuropsychology. She has authored several scientific publications addressing psychological correlates of cancer quality of life, program development, and patient treatment decision-making. Her enthusiasm as a scientist/practitioner is not only to support and educate patients toward resiliency, quality of life enhancement, and stress reduction and management, but also to continue one of her passions in life, which is to be part of multidisciplinary teams that collaborate on integrating cutting-edge modalities aimed to enhance the mind-body connection.
Dr. Antoinette began working at Sierra Tucson in 2008 providing psychometric assessment and interpretation, in addition to developing psycho-educational curricula for Sierra Tucson's Pain Recovery Program. During 2009, she created and implemented the bio/neurofeedback program into the Sierra Tucson treatment process, utilizing integrative psychoneurophysiological therapeutics and evaluation. In 2014 Dr. Antoinette accomplished the restructuring of Sierra Tucson's Psychology department so that comprehensive psychological profiling became part of standard care for all admitting Sierra Tucson patients. This has provided tremendous opportunity for each patient to explore deeper understanding and insight into their self-exploration, as well as offer key feedback to enhance and tailor Sierra Tucson treatment planning. During Dr. Antoinette's oversight of psychology, she also pioneered the Post-Doctoral Fellowship program, which offers a one-year full-time fellowship to pre-licensed clinical psychologists.
In her role as Director of Applied Neuroscience and Outcomes, Dr. Antoinette will continue to oversee the bio/neurofeedback program and TMS, and to expand the offerings of cutting-edge neuromodulatory therapeutics as part of Sierra Tucson's integrative care model. As for measurement-based care, an initiative that Dr. Antoinette spearheaded back in 2015, she will undertake the expansion of the measurement-based care and outcomes initiative to evaluate patient progress throughout the treatment trajectory as well as various time-points after discharge; this initiative will further strengthen patient understanding of their mental health progress, deepen therapeutic alliances, and to support the Sierra Tucson mission to be the exemplar in best mental health practices.
Presentations by Antoinette Giedzinska, PhD:
"The Nuts & Bolts of Measurement-Based Care," Rocky Mountain Executive Consortium of Colorado Seminar; October 2019
"Applying Measurement Based Care & Outcomes in the Integrative Medical Setting: The How, the What & the Why Bother," Cape Cod Symposium on Addictive Disorders, September 2019
"The Role of Psychoneurophysiological evaluations into a Multidisciplinary Comprehensive Assessment Program," SBNCA Conference; Atlanta, GA; November 2018
"Measuring Clinical Outcomes: The Importance of the Why, the Integrity of What, and the Significance of How," Presentations at Addiction Professionals Webinars & AzPA Annual Convention; Tucson, AZ; September 2018
"Lifting the Fog: Integrating Bio/Neurofeedback into Integrated Mental Health Treatment for Addictions," ICAAD Conference; London, UK; May 2017
"Integrating Bio/Neurofeedback and Other Therapies in Treatment for Addictions and Mental Health Programs," Advanced International Winter Symposium; Dallas, TX; January 2017
"Chronic Stress, Stress Reduction, and Stress Management," All-day seminar held for Sierra Tucson Eastern Region, Alumni Outreach, September 2016
"The Brain Hijacked without Chemical Abuse: Identifying the NeuroPathways of Process Addictions," Addiction Professional Webinars, September 2015