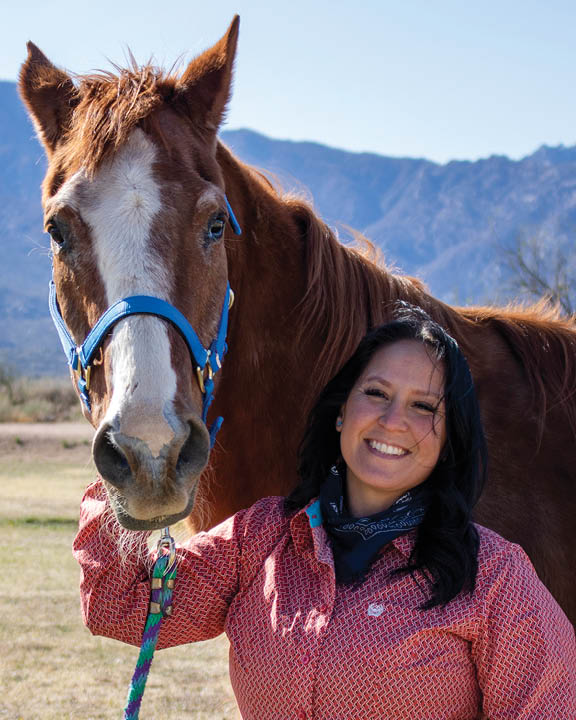 Anissa Lozano
Equine Specialist
Driven by the desire to help individuals overcome their struggles and find their purpose, Anissa Lozano is using her background and experience from a variety of mental health roles to lead equine enrichment for Sierra Tucson residents and outpatient clients. Certified in Equine Sports Massage Therapy, Anissa is an 11-year veteran of the City of Tucson Police Department and has worked closely with the local mental health community at large, including with at-risk youth throughout her career.
At Sierra Tucson, she assists therapists with residents and outpatient clients in various capacities using equine-assisted therapy. Equine-assisted therapy is an important tool to help residents gain insight into their emotions, relationships, and patterns of behavior. Within a small-group setting, Anissa facilitates a wide variety of activities designed to explore emotional regulation, relationships, and present-moment mindfulness. Her expertise assists therapists guide their residents to process experiences in real time, allowing them to recognize thought and behavioral patterns and practice new ways of being. She enjoys witnessing the connections made between people and horses and the breakthrough moments when someone is able to push through their struggles.
Her specialized training and experience in crisis intervention and negotiations, combined with her love for horses and their therapeutic value in advancing healing, are aligned with her life goal to help individuals move beyond their mental health struggles. An animal lover with a big heart, she is also a huge fan of pigs and dogs and spends her free time enjoying her pets.